Discover the Secrets : Charleston, SC
Old Charleston Walking Tours

Charleston is a delightful city to explore on foot. History – did you know there is a dungeon downtown? – lurks down every alley. One of the best ways to discover these secrets is to take a walking tour.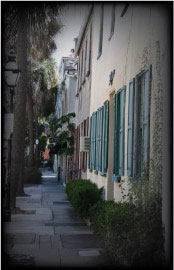 Mike Brown and Dennis Stiles, owners of Old Charleston Walking Tours, invite you to see the city through their eyes.
"We all really love history and our job allows us to research, learn and enjoy," said Brown, who has been regaling visitors and locals with true tales of Charleston for 15 years.
Old Charleston Walking Tours start at Washington Park, where groups of 10 to 20 people depart for a variety of destinations. Some will take the History and Homes tour, which showcases historic homes and churches, to learn how Charleston's former residents lived. Others will delve into Charleston's brutal past, when pirates ruled the Carolina coast and the hapless and hopeless were tossed into the city dungeon.
Other popular tours include Civil War and Slavery, Gibbes Art Discovery and the Ghost Tour. Brown specializes in Charleston's haunted spots and, after more than a decade of research, knows "the stories that were never meant to be told."
Fans of Pat Conroy will want to take the newest tour, South of Broad, which touches on places chronicled in the novel of the same name.
"Our most popular tour at the moment is the South of Broad walking tour," Brown said, adding that it is officially sanctioned by Conroy.
Last year, more than 6,000 visitors and locals took a walk through history with Old Charleston Walking Tours.x
"All of our tour guides are very experienced; they bring history alive," Brown said.
Barbara Patrick